When seeking to add to one's family , emotions can easily take over . Adoptive parents WANT to believe that the service that they have hired is going to help make their dreams of a child come true. These adoption professionals, although they may be well intentioned ,oftentimes have the will to help but many just don't have the means. They state that they network and that they advertise . A lot of them have amazing websites and very polished salespeople . Numbers don't lie. Ask them to show you the numbers . We don't mind showing you the numbers… but then we are #1 .. so we WANT to show you the numbers. There is no other adoption service that comes close to competing with us, and we want to claim that best of the best award . After all , it has been and continues to be , a lot of work to put us in the number one position. Yes, we do understand that there is no advantage to you that we are the best if you aren't able to hire us, but if you do end up using one of our attorney or agency clients to adopt, you will be able to go into this with open eyes and understand the depth of what we do and be able to make a confident decision if the time comes. that works directly with attorneys and agencies regarding their adoption advertising needs. If you have been referred to this link by your attorney or licensed professional it is probably because you are seeking to adopt and your professional is using our service. Please request a copy of our agreement from your professional that outlines our efforts and our refund policy. Chosen Parents Adoptions does not work directly with families that are seeking to adopt, and we are not available to the public.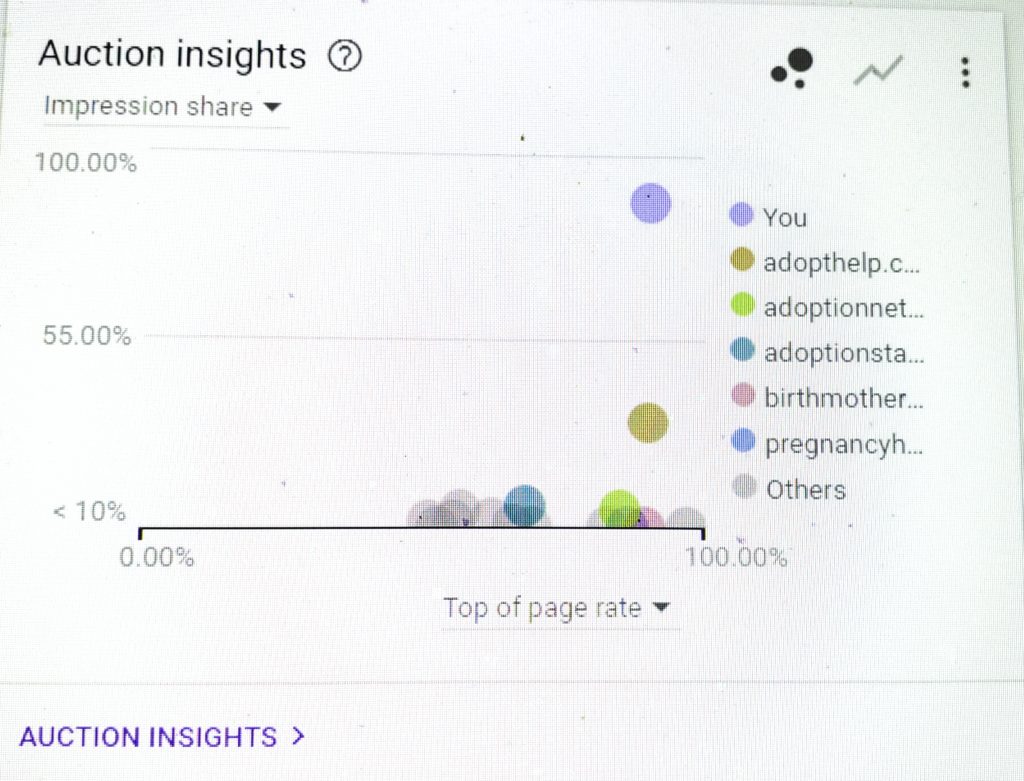 1. Chosen Parents Adoptions comes in #1 in SEM
What is Search Engine Marketing (SEM ) ?
Search Engine Marketing is paid online advertising , such as Google Adwords , Bing , Yahoo, Facebook etc. Businesses contract with search engines or other online sites and they normally agree to pay a certain amount of money every time their ad appears and someone clicks on it . SEM is critical in order to be a successful business these days. The vast majority of birth mothers call in from Google. Google is by far the largest and most used search engine in the world. In order to be a successful adoption service , it is critical that the service that you are working with have the finances to be able to advertise through SEM . In addition , the ads that the service generates must be relevant have a good quality score , meaning that when someone does a search , the ad is clicked on because it is relevant to their search . For example, if someone types in " I want to give my baby up for adoption", and an ad pops up that says, " Adopt a Pit Bull Puppy ", it is doubtful that it will be clicked on , and the quality score will decrease.
It is a process to create ads and bid in order to show up at the top of Google. Chosen Parents Adoptions is consistently in the 1.4 to 2.1 range for all relevant search terms on Google . What does that mean ? We average either the first or second spot . The below chart which is created by Google Adwords ( that our competition does NOT want you to see ) shows that we appear in 93.39% of all ads that we request. In addition we are at the top of the page 92.54 % of those times. As you can see, we are way ahead of our competition , and with almost 20,000 possible keywords, we are always going to appear when someone is seeking information about placement. We are happy to provide an updated chart for any time frame that you would like, this one was 1/ 10/2019.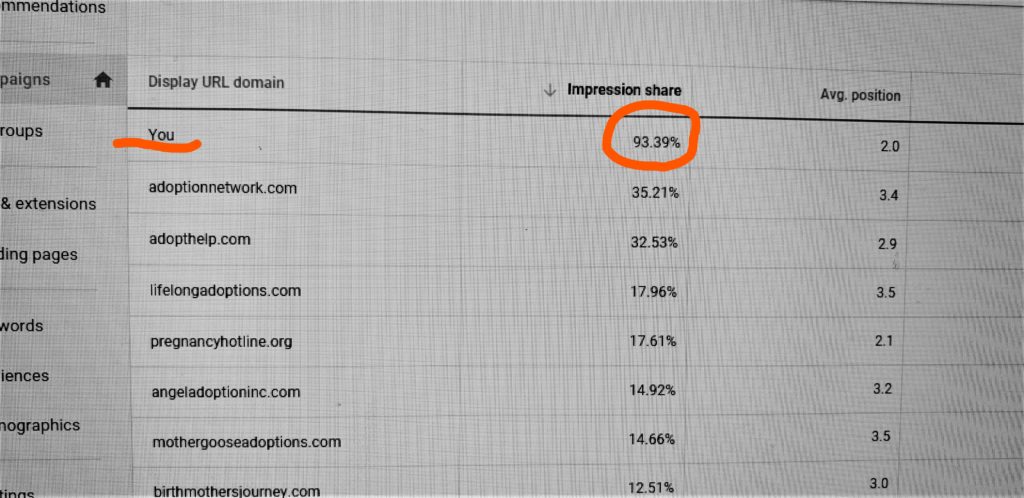 2, Chosen Parents Adoptions Inc has a refund policy
Who does THAT ? A refund policy ? Unheard of. Yes, the attorney or agency that we work with will be happy to go over our policy prior to you retaining them. We aren't talking about a few dollars back. We are talking about the MAJORITY of the fee that is paid to us is refunded. You are not stuck in a 2 year contract with a promise that we will do "everything we can " to find you another situation if this one doesn't work out. ( Knowing that a very large percentage of those people do not adopt in that 2 year window ) .We aren't going to keep the money that you may very well need if you find a situation elsewhere. You are going to get your money back ! Simple as that . We want you to be able to adopt a baby .. whether it is through us or someone else. That is our goal.
3. We will post your profile at
NO COST

unless chosen , if you are referred to us by one of our clients on our site Chosenparentsadoptions.com

Yes, we are happy to post profiles of any home study approved family that is working with one of our clients . There is no fee to be posted , and the family will have the advantage of receiving thousands of dollars worth of advertising at their disposal with no upfront fees. You only pay for advertising if you get results and you choose to move forward with a case. If you are successful in adopting through another service , we are thrilled for you . Just send us an email and we will remove your profile.
4. Chosen Parents Adoptions is selective of who we work with .
If your attorney or agency has referred you to this page , Congratulations ! Chosen Parents Adoptions only contracts with the very best adoption professionals in the United States. We have a very limited pool of clients, and very seldom do we have openings for new clients. We simply cannot take on all of the attorneys or agencies that would like to benefit from our program. We can assure you though , you are in the very best hands. We wish you a positive and fruitful journey into parenthood, and commit to doing our job in making this a positive experience for all.
5.Chosen Parents Adoptions has an A+ Rating with the Better Business Bureau
Although Chosen Parents Adoptions is not an accredited member of the Better Business Bureau , they STILL gave us an A+ rating !